Back to all posts
Posted on
Bee Buddies Honey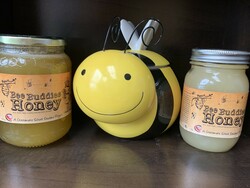 ON SALE NOW ~ Fresh Local Honey.
Help support our school by purchasing our fresh all natural honey harvested right here at the school.
$7.00 per 500g Jar
$ 11.00 per 780g Jar
Those with an ACORN payment account may purchase directly through the online system. Community members can make purchases at the school office during regular school hours.