Back to all posts
Posted on
Christmas Concert "Crestomere Idol" Thursday, December 12th 7:00 p.m. Doors open at 6:30 p.m.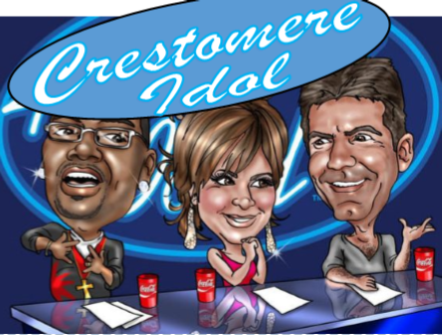 Christmas Concert 2019
We're back to the early 2000's and our judges are ready to decide who moves on to the next level on "Crestomere Idol".  Come join our live studio audience for an interactive evening of show-stoppers.  We are thrilled to have our judges booked for the evening of Thursday, December 12th.  Peppermint Paula, Randy Reindeer, and Simon Scrooge are prepared to give constructive feedback to our own Crestomere performers.  Be sure to bring your cell phone to participate in audience voting, and a toonie or two for the Best Seat in the House draw.  
Best Seat in the House!
For the best concert seats, prepare to enter our draw for the front row, luxury seating contest,  complete with popcorn and drinks served by our Crestomere grade 5 class. For a $2.00 donation to our music program, your name will be entered into a draw for the "Best Seats in the House".  You will have a chance to enter the draw as you enter the gym, so bring your toonies!  (Proceeds from the donations will help cover the cost of our Christmas concert.)