Back to all posts
Posted on
Community Gardens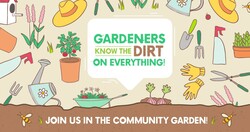 Our garden is your garden!
This year we have planted a variety of herb and vegetables that we hope everyone can enjoy.  While we have planted many different root and squash vegetables, we have also planted bean and peas which will be ready for harvest this summer.  Please, if you are around the school grounds this summer and want to help out, water and weed as much as you want.  In return, we want you to enjoy some of the veggies. We really want our garden to be a community garden so please share in the celebration of the growing season.  If you can, snap a picture of you and your family enjoying the playground, naturalization site and/or garden and send it to crestomere@wolfcreek.ab.ca.  In the fall we would like to showcase our garden journey.  Until then, Weed, water, and wander!
Please email Mrs. Mueller at penny.mueller@wolfcreek.ab.ca if you are interested in helping care for our gardens over the summer.