Back to all posts
Posted on
Crestomere Cougar Badminton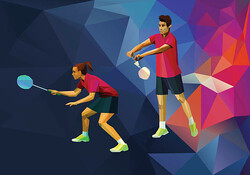 Crestomere Cougar Badminton Handbook 2021
Fees
As of right now, there are zero fees to play on the badminton team. If we are allowed to compete or if we want team shirts (like the ones to the right), there may be a fee later. 
Tryouts and Practice/Tournament Schedule
Due to the nature of our spring, there will be no tryouts. Unfortunately, we are not yet able to compete with other schools/teams. 
We will begin practice starting March 22nd.
COVID Guidelines
We are only allowed 10 people in the gym at a time
People at practice must be from same cohort (9s can't mix with 6s, for example)
No spectators or people from outside the school allowed inside the gym
We must sanitize often
Practice Format
Since we are only allowed 10 people during practice, we will have to assign a specific day for each cohort group. We will use Google Forms for signups each week and that info will allow us to group Cougars. Here is a link to next week's practices (this link has been emailed to you as well). Practices will run from 2:45-4:15pm. 
Coaches
Mr. Lewis: Monday
Mrs. Eadie: Tuesday
Mrs. Harink: Wednesday
Mr. Whitbread: Thursday
Commitment
If players sign up for the Badminton team, they must stay committed. This includes attending practice and tournaments, putting forth their best effort, and representing Crestomere with pride. If a player must miss practice or a tournament, it is his/her responsibility to let Mr. Lewis know well in advance. 
Player Conduct
Despite not having any tournaments or competitions this spring, the Cougars Badminton is dedicated to improvement. This is the mentality Cougars must exemplify at practice. If you are showing up to practice, you are there to work and improve. Coaches receive the right to ask players to leave if necessary. 
Student Pick-up
Parents are expected to arrive for pick-up of their children approximately five minutes before the predetermined end time.  If parents are unable to pick up their child/children, another ride home should be pre-arranged.