Back to all posts
Posted on
Elder guides Crestomere Staff in traditional Tipi raising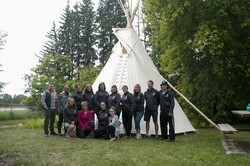 In honour of our First Nations ancestors, Our School has set goals to better support all students in understanding our past, where we have come from, and how the past has shaped who we are today.
As a team building day, we were grateful to have the wealth of knowledge provided by Elder Don Johnson, as he guided us in setting up a traditional Tipi on school grounds. It is part of our commitment to culture and honouring reconciliation, while educating students.
Please respect the Tipi as an educational tool on our school property. We look forward to sharing meaningful lessons with our school community. We you all on Tuesday.