Back to all posts
Posted on
Friends of Crestomer Card Fundraiser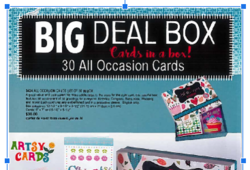 BIG BOX DEAL!   
Together Crestomere School and the Friends of Crestomere Society are excited to offer you an opportunity to purchase these great card sets. There are 2 different collections of greeting cards to choose from. An All Occasion and Kids Birthday Box Set. Each card works out to $1.00.  $30 for 30 cards.
This is a great package to have at home for last minute gifts! 
Cards sets will be on sale during Parent Teacher interviews or available for purchase at the school office by CHEQUE ONLY PAYABLE to FRIENDS OF CRESTOMERE. Proceeds go towards Crestomere School Technology needs. 
Limited Quantity so get yours while supplies last !!!!