Back to all posts
Posted on
FUND$AVER ~ Coupon App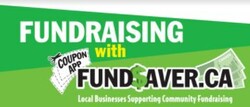 This year, due to the Covid-19 situation, we are offering a 100% safe, no touch, Mobile App/printable coupons saving system.  This easy to use app allows your family and friends to view
and purchase online at the FUND$AVER website. www.fundsaver.ca
Help support our School! All proceeds from the below fundraiser will support various student activities throughout the school year. 
Info:
The Mobile App/printable coupon version sells for $20.00 and is loaded with a variety of Local
businesses (with $1000's of dollars in savings), including everything you are looking at
buying in our local community.

Once you have purchased the Mobile App and have activated your account on the
FUND$AVER website, you simply choose one of the coupon offers you would like to
redeem, show the redeemed coupon image on your phone at the Local business and
$ave. (or print the coupons from the FUND$AVER website to bring the physical coupon to the
local business to redeem).
It's that Easy!!
Go to fundsaver.ca
Follow the purchasing process then select "RD006 ~ Crestomere School at the final stage of the Check Out process.

An additional bonus feature of the FUND$AVER Mobile app, is the ability to Share
these coupons with your family & friends to redeem them (right from your mobile
phone or computer). If YOU can't use all the coupons with all of the saving
opportunities, we are confident that you know someone who can! Fund$aver wants to
make sure that every customer of the Mobile App is getting the best value possible for
their money, while supporting an important local fundraising group's efforts in reaching
their goal!