Back to all posts
Posted on
SCHOOL RE-ENTRY SEPTEMBER 2020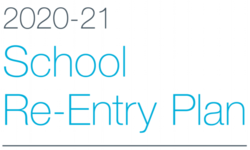 Welcome Back!
Message from your Principal
I think that we can all agree that this is an interesting time in history. What's making it much easier to navigate is knowing that we will come together to do what's best for our community.  
This is a lengthy document with some details making complete sense to us, while others are slightly more challenging to understand.  Please know that we are here to collaborate with you to make this transition as smooth as possible. We continue to have an 'open door' communication policy even if this means we are talking over the phone or sharing through video conferencing.
Throughout the month of September we will focus on adjusting to our new normal while working diligently to adhere to the Alberta Health standards and recommendations. While we adjust to this new normal we welcome your thoughts and feedback, and most importantly, your partnership. 
Our school functions best when it's full of laughter, learning and love. Having students return to the building is truly the best scenario for everyone in our community, and yes, there will be challenges and some failures, but also many successes.  I personally am looking forward to seeing the smiles...even if they are through the eyes of a masked child.
Recently a good friend shared that, "All trails go somewhere".  This path we are on will take us where we need to go. Let's trust that every twist, turn, switchback, and fallen obstacle will help us build the resiliency needed to support and grow our students.
See you all in September
Penny Mueller   
Please read the following information regarding our schools RE-ENTRY PLAN for the 2020-2021 School Year.
We will be conducting a 'Staggered Entry' during the first week of school.  The following information will help you plan for which day your child will be starting school.
During the first week back to school student entry will be staggered as follows:
September 1, 2020
GRADE 1 Families with last names A - J
All other families with last names that begin with A - H  
NO KINDERGARTEN
September 2, 2020
GRADE 1 Families with last names K - W
All other families with last names that begin with I - R
NO KINDERGARTEN
September 3, 2020
NO GRADE 1 STUDENTS ON THIS DAY
All other families with last names that begin with S - W and  ALL KINDERGARTEN 
September 4, 2020 
All students will attend except Kindergarten.
*IMPORTANT NOTE ON ENTRY POINTS
Cohorts will be designated a point of entry/exit until further notice. We thank you in advance for being patient while we adjust to the new processes. 
DESIGNATED COHORT ENTRY/EXIT POINTS
COHORTS K/1 AND 5/6 
MAIN ENTRANCE - with the K/1 entering/exiting on the left and the 5/6 entering/exiting on the right.
COHORT 2/3 
SOUTHEAST ENTRANCE (near the new kitchen)
COHORT 4
SOUTHWEST ENTRANCE (near the music room - facing the back parking lot)
COHORT 7/8 AND COHORT 9
NORTHWEST ENTRANCE (Jr. High boot room)
NOTE- Adult supervisors will be monitoring physical distancing at all locations in the building.

Please see the following SCHOOL MAP for designated COHORT Entry Points
The entire Crestomere School Re-Entry PlanSCHOOL RE-ENTRY SEPTEMBER 2020 can be found here.