Back to all posts
Posted on
Tackling Toiletries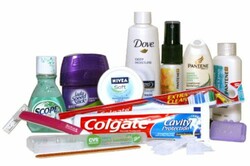 This Year's Holiday Service Project will focus on supporting
Our local Food Banks with
"Toiletry items for the family".
Many Alberta families rely on local food banks to assist with daily meals.  Often these same families will still struggle to afford daily toiletries.  Please consider helping us collect such items for our local food banks.  A collection area will be set up in the school until Wednesday, December 18, 2019.
Possible Ideas:  soap, toothpaste, toothbrushes, dental floss, mouthwash, shampoo & conditioner, deodorant, feminine products, diapers, baby wipes, contact solution, body spray, shaving cream, hand or body lotion, Q-tips, baby lotion & powder, baby shampoo, razors, combs, brushes, hair barrettes, and elastics, nail clippers, small mirrors, toilet paper, blow dryers, face cleansers, lip gloss, cosmetics, laundry detergent.